Indoor Swimming Pool Cleaning, Service & Installation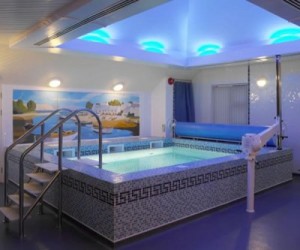 Indoor swimming pools have become very popular over the years,    Unlike outdoor swimming pools, you can use an indoor pool year round – without having to worry about the weather.
You may be interested in having an indoor pool at home.  This is very possible these days, due to indoor pools being more affordable than ever.  The first thing you'll need to do before you can get one though, is make room for it. You may need to add a room onto your home to put the pool in.
If you have the money to spare, an in ground indoor swimming pool will provide you with plenty of room to swim laps and have a lot of friends over with plenty of room to spare.  This may cost a lot of money though, which rules it out for many of us.  You'll also need a big room for this type of pool as well, as it can cover a lot of space.
If you don't have a lot of money to spare, you can use an above ground pool instead.  You'll still need to room to store it, or you can again add on to your home.  Adding on to your home will help to raise the overall value of your property, which will be a major plus later on down the road if you decide to sell your home.  Indoor swimming pools hold a lot of value, especially if you have it constructed yourself.
When you have your swimming pool set up indoors, you'll need to have a
professional do everything.  Although you may think you can do everything yourself, it will prove to be a bit more complicated than you may think.  Professionals know exactly what they are doing, and won't have any problems at all.  They will also do all of the work for you, and contact the necessary officials to make sure that your indoor pool conforms with state and local laws.
In more ways than one, an indoor swimming pool can provide you with a lot of fun and excitement year round.  Indoor pools have a lot of benefits, also providing to be great for those who have back trouble or other medical ailments.  Even though the pool is indoors, you can also invest in a heater for your swimming pool and keep the water a certain temperature whenever you decide to jump in and take a swim.
You can find everything you need for an indoor swimming pool At Pool Depot.  If you need to add on to your home first, you may want to contact a carpenter first.  Once you have everything you need and you get your indoor pool finished, you'll be amazed with the results.  You'll be able to go swimming anytime you like, day or night – in the privacy of your own home.
For all your swimming pool and spa supplies, service and repairs call us.
The best price!
Pool Depot
(619) 741-3374
2372 Fletcher Pkwy.
El cajon CA 92020