Swimming Pool Leak Detection San Diego
Do you think you have a pool leak?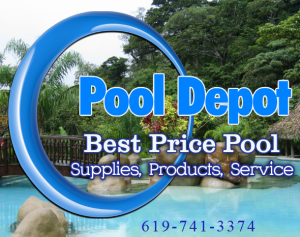 We Are the San Diego swimming pool Leak Specialists; Specializing in inspections, Detection and Repair.
We can accurately Locate Underground Leaks in swimming pools, spa's and water feature without destruction.
it's not uncommon for your pool's water level to vary day by day. Environmental factors such as humidity and wind can have an effect, causing you to lose up to ¼ inch of water a day, or about 2 inches per week.
Signs you have a pool leak:
You add water more than once a week
Pool loses more water than regular evaporation (about 1/4 inch)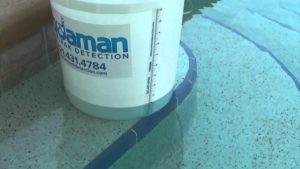 Pool has air in the system
Equipment loses prime
You see cracks
Pool deck is sinking or lifting
There are soggy spots around the pool
Test your pool for a leak with the Bucket Test.
If your pool is losing water on a consistent basis and you suspect you may have a leak, Please watch the video below for a quick test you can do.
This Could possibly save you hundreds of dollars.

A swimming pool leak is a very important issue to address in a timely manner. A small leak over time can lead to much more serious issues if not repaired quickly and properly. Even the smallest leak can be loosing hundreds of gallons of water every day and larger leaks much more! At Pool Depot we are Leak Specialists, we work with residential and commercial clients offering a intensive Leak Detection service. This includes a detailed report of your full system along with any leaks or issues we find. We offer multiple inground swimming pool leak repair options, the majority of which can be handled the same day.
Preparing your pool for a professional leak detection
In most cases, it is recommended to have the pool vacuumed spotless prior to your detection. Leaks as large as 1″ in diameter could be missed until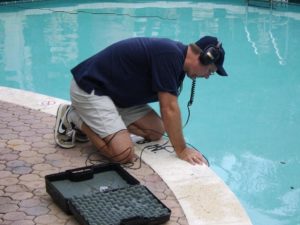 the dirt covering the leak is vacuumed or brushed away. Make sure the water is clean and not green. If it is green, the water may contain molds, fungus, larvae or other contaminants that could make you sick, besides making it almost impossible to test.
Have the following information ready when you call to schedule your professional pool leak detection:
Is it a pool only or does it include a spa?
Is the pool equipment above or below ground?
How many pumps are there?
Is the pool constructed of fiberglass, gunite, marcite or vinyl?
How many skimmers are there?
Does it leak more with the filter on or with it off?
Are there any fittings in the floor of the pool other than the main drain?
How much water does it lose in a 24-hour period?
Pool Depot:  Swimming Pool Leak Detection, Repair, Service, and  Supplies:
We specialize in detecting and repairing swimming pool leaks in San Diego and surrounding areas.
If your pool is losing water on a consistent basis and you suspect you may have a leak, please contact us; (619) 741-3374 –  We have been servicing all of San Diego with quality and reliable service for many years. We also offer many other pool services including repair, service and please visit our full service pool store At… 2372 Fletcher Pkwy El Cajon, CA 92020 for all your Swimming pool, spa or water feature needs.
Call us today for your free estimate – (619) 741-3374
The best price!
(619) 741-3374
2372 Fletcher Pkwy.
El Cajon, CA 92020
Email: 619287pool@cox.net
Text Questions To (619) 794-6148