Pool Repair
El cajon & San Diego
Swimming Pool & Spa Repair
It is not uncommon for home owners to find that something is not working well with their swimming pool, spa, even their  waterfall or fountain.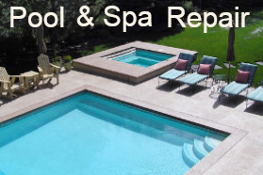 Pool Depot can handle all of your swimming pool and spa repairs, service and maintenance. (619)741-3374
We offer knowledgeable technicians and competitive rates for El cajon & San Diego swimming pool & spa repair.
Our services is cost effective and tailored for all types of swimming pools.
We are licensed and  bonded; Our technicians adhere to  all State  Health codes…Your satisfaction is our number1 goal.
Pool Depot offers fast and reliable response for all repair service call.
Everyone wants the best maintenance and repair for the most affordable price. Our prices are subject to an inspection of your pool. If we can save you money by replacing a part rather than selling you a whole new unit, that's what we will do.
Call Pool Depot For all of you swimming pool needs. (619)741-3374
Swimming pool pump repair or replacement
Spa or hot tub pump repair or replacement
Spa or hot tub jets pump or booster pump repair or replacement
Swimming pool filters cleaning, repair or new installation
Any type of swimming pool automatic cleaners
New installation or repair of any type swimming pool control system (indoor or remote control)
New installation or repair swimming pool heaters
New installation or repair spa heaters
New installation or repair combination of swimming pool and spa heaters
Any plumbing repairs (pipes, valves, any kind of swimming pool equipment)
Any swimming pool equipment electrical problems
Swimming pool salt system repair, cleaning, new installation
Swimming pool lights repair or exchange
Spa lights repair or replacement
Spa color lights and color lighting features repair, installation or replacement
Swimming pool algae problems correction
Swimming pool tile cleaning (Calcium removal)
Swimming pool stain removing
Swimming pool acid wash
Spa acid wash
Swimming pool drain
Spa drain
Start up for new or remodeled swimming pool or spa
Real estate sale preparation
Fountain cleaning or repair, or new installation
Waterfall cleaning or repair, or new installation